How to become a successful entrepreneur?

Are you doing everything right and

still failing

? Let me show you how to

change that, today

!
Discover how to become a successful entrepreneur
and reach unlimited potentials...
Dear frustrated entrepreneur,

A recent survey found that more than 70% of people want to be some sort of entrepreneur.
Becoming an entrepreneur is a sought after job for many reasons, including pride, purpose and possibly money.
Starting and running your own business on a day to day basis is no easy task, but it is one that is truly worth the effort.
So You Want To Become An Entrepreneur?



There are many reasons why you should consider taking that giant step and creating your own business. Here are just a few of them:
Autonomy - running your own business allows you to be in charge of your own destiny.
Opportunity - Being an entrepreneur opens up a whole new world of opportunity for you.
Impact - Many people who work for other companies truly want to work hard and help that company to succeed, but few are actually able to have such an impact.
Freedom - this is the answer most people will give if you ask them why they want to become an entrepreneur.
Being your Own Boss - this is another common answer for why many people want to become entrepreneurs. If you are your own boss you can do things your way. You can make your own decisions, take your own risks and decide your own fate.
Time and Family - depending on your specific goals in life, becoming an entrepreneur could give you the freedom of time and allow you to spend more of it with your family.
Creating a Legacy - if the idea of forging a lasting legacy is important to you then few other careers give you the opportunity to do so like operating your own business.

Accomplishment - if you have specific goals that you would like to accomplish in your life running your own business could help you to do so.
Control - for a lot of business owners the sense of security that comes with the ability to control your own work is a major reason to become an entrepreneur.
What Does It Take To Become An Entrepreneur?
There are plenty of benefits of being an entrepreneur, but it is certainly no easy task to start your own business.
Successful entrepreneurs, that is to say those who are able to accomplish their goals, earn a successful living through their business and enjoy the many benefits of entrepreneurship, all have specific traits.
If you are considering taking the leap and following your entrepreneurship dreams then you will want to understand what these traits are so that you can instill the same traits in yourself.
Successful Entrepreneurs:
Have passion and a lot of it
Are tenacious
Able to manage their fear of the unknown
Have a grand vision
Believe in themselves
Are extremely flexible
Are able to defy conventional wisdom
Are willing to take risks in life
Having your own business is great!
What's not to like about it?
The thing is - it is a grind. You have to be prepared to work hard and learn a lot. You will learn as much from your failures as you will your successes.
If you do not want to be overwhelmed with everything involved in building and running your own business, you better invest time and effort in studying entrepreneurism.

Learn what it takes to become a successful entrepreneur.
Being an entrepreneur (and a successful one at that) involves operating in divers fields. You need to:

Have passion
Know how to effectively manage others
Stay motivated at all times
Have communication skills
Be a marketer
Have the proper mindset
Sounds a bit like juggling, isn't it? The good news is with proper knowhow, guidance and effort you can get a handle on all that, in no time.
Someone gave me this advice once and since it helped me turn things around for myself, I want to repeat it for your benefit, today: "Immerse yourself in the life lessons of successful business people". If you want success, why not learn from the people who have it?
The study of success is never a waste of time.
That's why I put together...
Entrepreneurial Success 101

Discover How To Become A Successful Entrepreneur

The Entrepreneurial Success 101 program I'm sharing with you today is made out of 4 modules showing you:
The Entrepreneur's Mindset - what you need to know to become a successful entrepreneur
Traits For Success - the time proven wisdom, passed down to us by successful business people
Successful Habits - habits you should have if you want to be successful and how to change yours so you'll have them
Stop Self Defeating Behaviors - how to stop sabotaging your own success (yes, we are all guilty of doing that)
Read on to find out more on each of the modules you can put your hands on - today!

Module 1: The Entrepreneur's Mindset



Whether you're already pursuing your dreams or simply starting out, this is an eBook you definitely want to keep close to you.
Here's what you'll discover in The Entrepreneur's Mindset guide:
A massive 101 tips on entrepreneurship, made for entrepreneurs or if you've ever wanted to pursue your own "thing".
The importance of passion when it comes to being an entrepreneur. Without passion, working is just going to feel like a job. Entrepreneur's are passionate in what they do.
Tips on how to start your dream business. We all know starting out is the hardest. Here are some tips on starting your dream business to help shed some light.
Tips on managing others. As an entrepreneur, you want to become a great leader.
Tips on how to stay motivated as an entrepreneur.
How to grow your business. Don't miss these tips!
...and much, much more!
I'm delighted to have the chance to share this powerful guide with you, and I know you'll be very happy with the results.
This guide alone has a truly incredible value, especially considering the significant difference it'll make to your success. But... This is not all - read on to see the other modules.

Module 2: 5 Traits For Success

There are a few…just a VERY few…traits that a person must cultivate and develop in their lives before they can even START to become successful in whatever path they choose.
You can think of these traits as the building blocks…the foundation…of your growth into a successful life.
You can build a life without them, but, like building a house without a strong foundation, it'll be put at risk with the first heavy wind or rainstorm. Believe me, you will have a few of those in your life for sure!
A very successful businessman and public speaker originally wrote this book in the late 1800s. The author knows what he's talking about!
The text was thoroughly edited and updated to make the language more readable and more current. However, the concepts and "laws" that are discussed in the book are ageless.
These are traits that are a "must" for any person who is looking for long-term success in their life…no matter WHAT their goals may be.
Read them carefully and thoughtfully. They WILL make a HUGE difference in your life!
Topics include:
The Power Of Concentration




Developing Self-confidence




Overcoming Self-consciousness

Thinking Right, Being Positive

Developing Imagination And Initiative
This timeless book will be your compass on the path to success. But... We are not done yet. Read on for the next modules.

Module 3: Developing Successful Habits for Work and Business + 50 Tips to Change Your Habits
We've been told by motivational speakers and trainers it takes 21 days to form a new habit. The fact is it takes a minimum of 21 days to begin forming a new habit. In reality, it can take up to 245 days for a new habit to form.

This is but one example of the kind of truths we are going to expose in this book.

Topics include:
What is a Habit and How is it Formed?
How to Identify Bad/Good Habits
Tips for developing good habits
Tips for breaking bad habits

Tips for changing your habits
... and more.

PLUS...
You'll get a worksheet with 50 tips to help you develop successful habits for work and business.

After reading the guide and worksheet you will know exactly how to develop good habits for your business. But... We still have one more module included in the package.
Module 4: Stop Self Defeating Behaviors In 5 Steps



We are all doing that to ourselves - sabotaging our own success.

This guide reveals how to stop self-defeating behaviors in 5 steps... If you ever felt Fear, self-conscious, socially awkward or have bad habits - this guide is for you.

Inside you will discover:
In 5 steps, how to stop self-defeating behaviors.




How to identify your self-defeating behavior.




3 case studies of people who have a self-defeating behavior.




Understand the origin of your self-defeating behavior.



And much more!

Overcoming self-defeating behaviors is not easy; it's a journey that may take time but it is essential to your success as an entrepreneur.
You can start your journey to success today!
I REALLY Want You To Succeed!



Becoming a successful entrepreneur is a journey. Reading some books will not make you successful over night. You need to continuously work on it, even though it may be frustrating at times.

That's why I've decided to add module 5:
Module 5: BONUS - 30 Traits To Develop For Success, email course



Here's how this lesson series is going to work:
Every lesson will contain a different trait that you'll want to take a look at and see if you need help with...chances are you'll want to look at EVERY one of them!
Each lesson will have an exercise...don't worry, it's short and sweet...plus something for you to memorize to help program your mind to absorb these traits that are so important to your success.

There are 30 lessons, delivered daily by email.

Get all this for FREE with your order today!

You Must Be Wondering: How Much Is

All That

Going To Cost Me?

Let me first recap all that your are getting today, as part of the Entrepreneurial Success 101 package:

Module 1: The Entrepreneur's Mindset
Module 2: 5 Traits For Success

Module 3: Developing Successful Habits
Module 4: Stop Self Defeating Behaviors
BONUS - 30 Traits To Develop For Success
TOTAL
Special Deal Today!

As you can see above, the Entrepreneurial Success 101 package has a real world value of $87. But you are not going to pay that much for it today. You are not even going to pay half of the conservative value of $87. In fact you are getting the Entrepreneurial Success 101 package today for almost 90% off (!)

We sell it every day for $27 but if you act fast you will pay less than $10. I'm not sure how long I can keep giving it at such a low price, so please - don't delay and grab it NOW!

On Top Of It All - I'm Taking 100% Of The Risk On Me



Now you can test drive our product for two months with NO RISK!

If you think that our product is useless for you, simply contact our support, and we will return 100% of your money. No Question Asked!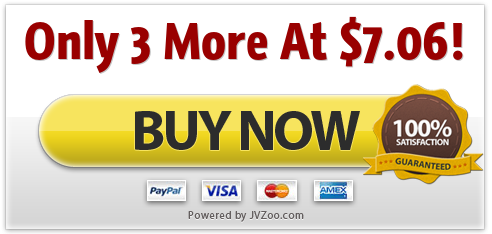 Now it's your turn to take action and put yourself on the road to success. For the low investment you need to make today, it really is a no-brainer.
Remember, your are risking nothing - I'm taking 100% of the risk on me, with our straightforward 100% satisfaction guarantee.

Sincerely,
Ely Shemer

Entrepreneurial Success